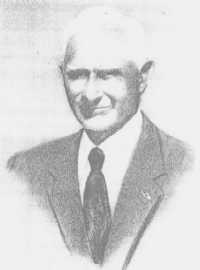 Elmer O. Smith
Elmer O. Smith was a plain, honest man of affairs, who by correct methods and a strict regard for the interests of those with whom his interest brought him into contact, had made his influence felt, and had won for himself distinctive prestige in the community. His life presents much that is interesting and valuable and may be studied with profit by the young whose careers are yet to be achieved. He is one of those whose integrity and strength of character must force them into an admirable notoriety, which their modesty never seeks, who command the respect of their contemporaries and their posterity and leave the impress of their individuality deeply stamped upon the community.
Elmer Smith was born May 2, 1873, in Pike Township, Marion County, Indiana, the son of Elijah and Evelin (McCurdy) Smith. He remained at his father's house until the time of his marriage, having received his education in the district schools of Marion County. On December 29, 1897, Mr. Smith was united in marriage with Maud E. Delong. Mr. and Mrs. Smith had a family of four children, Elva, Mary, Freeda and Russell. After his marriage he took up his residence on a farm he had purchased adjoining that of his father. He remained there until 1903 when he moved to Brownsburg. In the spring of 1907 he had the distinction of opening the first retail hardware business in Brownsburg. He remained in that connection until the spring of 1910, when he disposed of his business and engaged in the sale of real estate. In march, 1912, he opened up the first garage in town, known as Smith's garage. On February 1914, he again opened up a hardware business in connection with his garage. In 1913 he built the first picture show in Brownsburg, which he leased for a few years and later operated himself. In 1917 his health began to fail and he sold his business, intending to retire and in 1918 moved to Florida to regain his health. This he did, and not content in his retirement, opened a furniture store in St. Petersburg, Florida in 1921.He operated this until 1927 when he returned to Indiana and purchased a hardware store in Arcadia. Again health failed him and he returned to Florida in 1941. He owned and operated the Pinellas Park Feed store until his death. Mr. Smith had been eminently successful in the various business ventures in which he was engaged. While engaged in fostering his interest, Mr. Smith had ever so ordered his principles of private life and business as to have won the confidence and respect of those with whom he came in contact.
The family was affiliated with the Methodist Episcopal Church, of which Mr. Smith was an active and consistent member. His fraternal affiliations were with the time-honored body of Free and Accepted Masons, the Independent Order of Odd Fellows, and the Knights of Pythias. Both Mr. and Mrs. Smith were members of the Order of the Eastern Star and the Daughters of Rebekah. Mr. Smith had all his life been aligned with the Democratic Party and had taken an active interest in its affairs. While not an aspirant for office himself, he had taken a keen interest in seeing the right man go into the right place and his influence was a thing reckoned with by those seeking public office. Mr. Smith was elected justice of the peace in the Brownsburg community, but refused to serve, at the same time appreciating the honor conferred upon him.
Mr. Smith had always been regarded as a man of high principles, honest in every respect and broad minded. He was considered a man of depth of character, and kindness of heart to the unfortunate. He was ever willing to aid in any way any cause for the betterment of the community and the public with which he had to deal. He was, consequently, held in high favor and the utmost respect by all who knew him. Being genial and sociable in his temperament he had a host of friends. His influence is still exerted upon Elmer O. Smith Lodge No. 307 Free and Accepted Masons.
Mr. Elmer Smith came from a Masonic family. His father Elijah Smith was devoted to the Masonic Fraternity and at the time of his death had been a Mason almost 68 years. He was one of the oldest Masons in Indiana, both in years of life and years of service to the Institution. Elijah Smith was a member of Brownsburg Lodge No. 241 F.&A.M. He was also a member of Danville Chapter, York Rite Masonry, a charter member of Brownsburg Chapter No. 266 Order of the Eastern Star and served as Worthy Patron in 1913.
Elmer O. Smith

Initiated in Hosbrook Lodge No. 473 F.&A.M. New Augusta, IN
E.A. - December 16, 1894
F.C. - January 5, 1895
M.M. - February 9, 1895
Affiliated with Brownsburg Lodge No. 241 F.&A.M. Brownsburg, IN January 7, 1909
He served as Junior Steward of Brownsburg Lodge No. 241 in 1912.
He was the third member of Brownsburg Lodge No. 241 to receive the Grand Lodge Award of 50 years. It was presented in St. Petersburg, FL.
PASSED TO THE GRAND LODGE ON HIGH
February 23, 1951
---
top