March 2003
FROM THE EAST
Brethren,
The Fish-fry Yard Sale is on Saturday March 29th. I implore all members of this Lodge to get the word out for this gathering. I particularly look forward to seeing some of the Brothers who have been absent from gatherings in the past. The fellowship with everyone one of you is valued more importantly to all of us, in our society, than you as an individual may realize. You are all necessary and your company is cherished. If any Brother is not of means to make attendance at a Communication, practice or other function, don't hesitate to call upon us. That is what we are here for.
I would like to thank the Brothers that attended the presentation of the "Hot Gavel" to Nitram Lodge on Thursday. A good time was had by all and we look forward to doing it again. District Instructor Rick Hoover will be conducting a Lodge of Instruction on Thursday, March 13th.
It was decided by a unanimous vote of the members present at the Stated Communication of Frbruary 10th that the regular practice sessions held on Friday nights are moved to every Thursday night. This was done to better accommodate the needs those members with families. New Brothers seeking instruction in the Catechisms should remember Worshipful Brother Ray N. Rich and his flexible schedule for personal instruction with a desire to "get it right". Bring a crate and stepladder to pick your own oranges.
All Brothers are asked to make contributions to the Yard Sale to help offset some of the costs incurred to operate this year. Thanks to all of those that have done so far.
All Brothers are asked to help with the general cleanup on March 1st and to assist with the inventory. Those Brothers who are not able to do any heavy lifting are still requested to appear for assistance with the Inventory but more particularly, for the fellowship.
I ask all Brothers and their Families to keep in our prayers, support, uphold and keep regular communications with our Civilian authorities, Rescue personnel, and Military personnel here and abroad as they continue to go in harms way in the defense of our Liberties and those ideals which we hold sacred.
In Search of Further Light,
James B. Reedy
Worshipful Master

---
Calendar of Events March 2003
| | |
| --- | --- |
| Mar 1st | WORK DAY 9 AM (LUNCH PROVIDED) |
| Mar 2nd | E.O.S and O.E.S. Dinner Noon - 2:00 PM. (Roast Beef) |
| Mar 3rd | EA Degree 7:30 PM |
| Mar 5th | Eastern Star Meeting 7:30 PM. |
| Mar 6th | Practice (Catechism Instruction Available) 7:30 PM (NOTE THIS IS THURSDAY) |
| Mar 10th | Stated Communication 7:30 PM |
| Mar 13th | Practice (Catechism Instruction Available) 7:30 PM (NOTE THIS IS THURSDAY) |
| Mar 15th | "Country in the Park" 9 AM |
| Mar 17th | Practice (Catechism Instruction Available) 7:30 PM |
| Mar 19th | MASTERS & WARDENS DINNER 7 PM MEETING 8 PM CLEARWATER LODGE |
| Mar 19th | Eastern Star Meeting 7:30 PM. |
| Mar 20th | Practice (Catechism Instruction Available) 7:30 PM (NOTE THIS IS THURSDAY) |
| Mar 24th | Stated Communication 7:30 PM |
| Mar 27th | Practice (Catechism Instruction Available) 7:30 PM (NOTE THIS IS THURSDAY) |
| Mar 29th | YARD SALE 7:30 AM FISH FRY NOON TO 2 PM |
| Mar 31st | Fellow Craft Degree 7:30 PM |
---
From the Secretary's Desk
Brothers,
PLEASE NOTE: The Worshipful Master requests your presence for a work day March 1, 2003, starting at 9 AM. Lunch will be provided.
At the Stated Communication February 10, 2003, the Craft passed a motion to move the practice from FRIDAY NIGHT TO THURSDAY NIGHT. Please note the Lodge will be DARK ON FRIDAY NIGHTS.
All Master Masons are invited to the Suncoast Master and Wardens Association meeting. If you would like to attend meet at our Lodge and we will DEPART at 6:30 PM.
Congratulations to Worshipful Brother Tom Lewis for receiving his 25-year pin and certificate, Worshipful Brother James Justice for receiving his 40-year pin and certificate and Brother Johnson "Jack" Crawford for receiving his 50-year pin and certificate.
Congratulations also to Brothers Will Jarvis and Drew Whitehouse for receiving the Master Mason Certificates.
Visit us at our booth at "Country in the Park" Saturday March 15, 2003 from 9 AM until 3 PM. See you there and at the Fish Fry and Yard Sale.
Fraternally,
Art Markowitz
---
FROM THE SOUTH
Brethren,
I look forward to a great year as your Junior Warden. It seems we have several new petitions in line for balloting, and it's great to see the interest from our new petitioners. I plan to feed the Craft to the best of my ability, however the collection plate results have left lots to be desired lately. If you want quality food at our meetings, we all have to give till it hurts.
I would like to congratulate the Worshipful Master for his wonderful lending library idea, and I am proud to be named as its librarian. Any Brother who wishes to donate a book or movie to the Lodge library will be given special honor by having his name permanently affixed to the inside cover of the book. For this library to be worthwhile we need as many donated books and videos as possible. The new library will be filled with literature of all subjects, not just Freemasonry. Feel free to call me at 727-647-6189 if you have a donation, and cannot get to the Lodge, I can pick it up from you.
Tyler B. Sheff
Junior Warden
---
The Chaplains Corner
Brothers,
Attendance at the meetings has been up lately and the floor work has been wonderful. Some Brothers are unable to get to the Lodge as a result of infirmity, but for those of you who choose not to attend and are able, you are missing a lot and your Lodge Brothers who do attend, do miss you. Please make an effort to come out and share your knowledge and meet some of the new officers. Thanks.
Terry D. Farnsworth, Chaplain
---
MASTER MASON NIGHT
CO-SPONSORED BY
EGYPT SHRINE CENTER and SCOTTISH RITE MASONIC CENTER
MONDAY MARCH 24, 2003
5500 MEMORIAL HIGHWAYTAMPA, FLORIDA
REGISTRATION 6:00 PM
DINNER 6:15 TILL 7:15 PM
COST = DONATION APPRECIATED
DEGREE STARTS AT 7:30 PM
RSVP BY MARCH 18, 2003
CALL EGYPT SHRINE 813-884-8381 EXT 225 OR SCOTTISH RITE 813-886-0578
---
PRESENTATIONS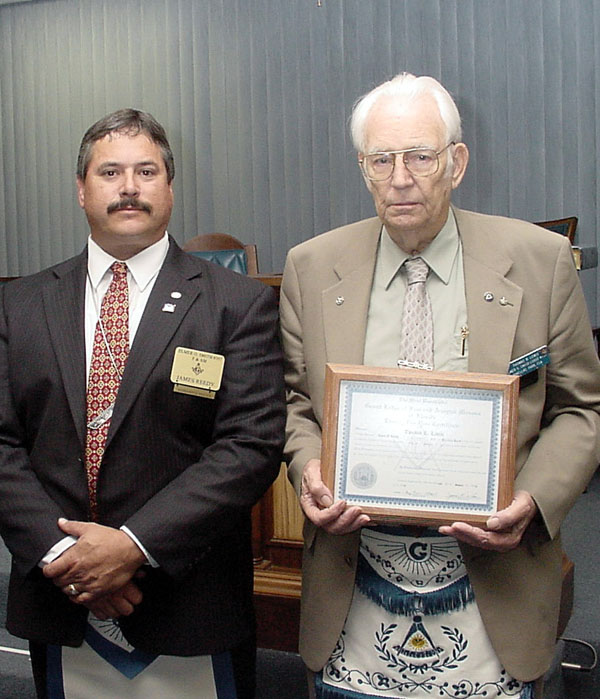 Worshipful Master James B. Reedy presented Worshipful Brother Thomas R. Lewis his 25-year pin and certificate. Worshipful Brother Tom was Master of Elmer O. Smith in 1983. He has served our Lodge as Junior Warden, Senior Warden, Marshal, Treasurer and Tyler. He is a Perpetual Member of Elmer O. Smith. Worshipful Brother Lewis is also an active member of the Scottish Rite.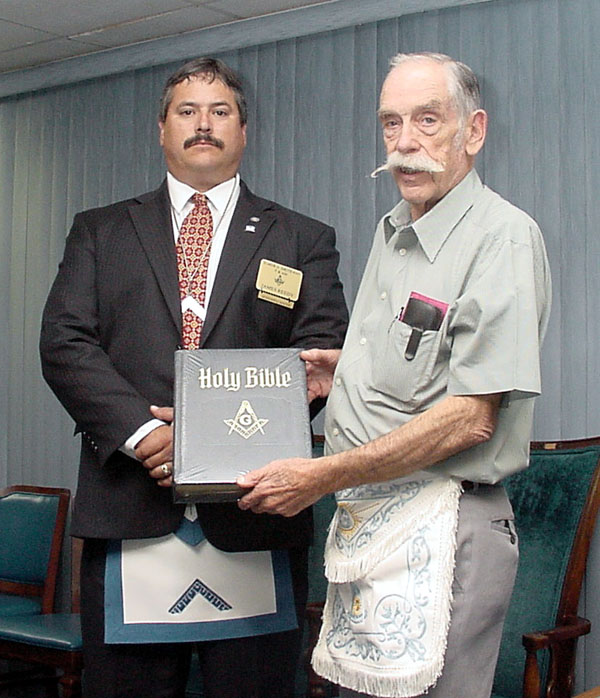 Worshipful Master Reedy has designated the building of a Lodge Library as one of his projects for this year.Worshipful Brother H. Lee Griffith donated an Heirloom Deluxe Masonic Reference Edition of the Holy Bible in the name of all the Brothers of Elmer O. Smith as the first book for the new library.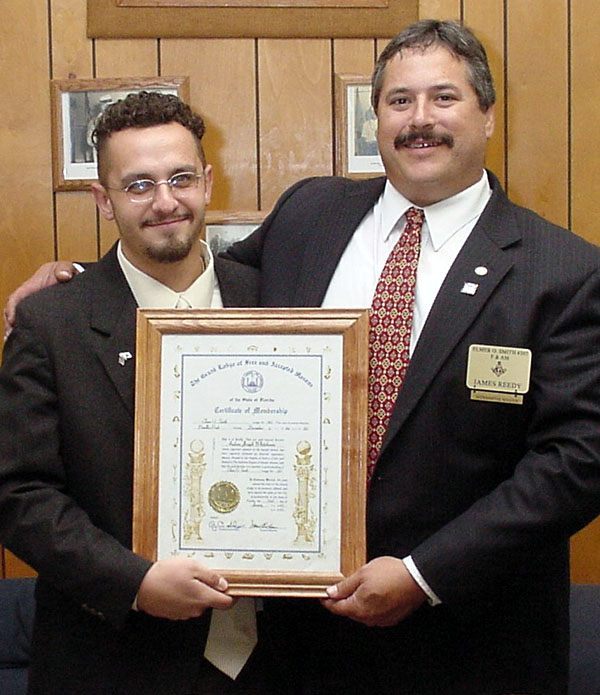 Worshipful Master James B. Reedy presented Brother Andrew "Drew" Whitehouse with hisMaster Mason Certificate. Brother Drew was Raised to the Sublime Degree of Master Mason December 2, 2003. Worshipful Brother Reedy thanked Brother Drew for his active participation since he was Initiated in September of 2002.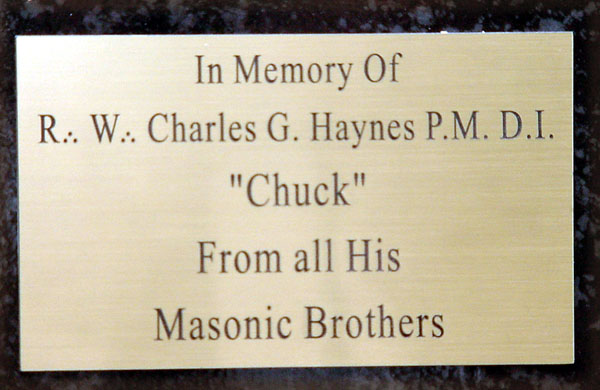 A Plaque on the Lodge's Honor/Memorial Wall was dedicated to R:. W:. Brother Haynes.
---
COUNTRY IN THE PARK
This will be our 3rd consecutive year we have participated in this event. We will set up a table and distribute literature about Freemasonry and its appendent organizations. We will display posters, power point presentations on the Lodge computer, and Masonic videos. We will meet and leave from the Lodge on Saturday March 15, 2003 at 8 AM. The program starts at 9 AM in Park behind the Fire Department on 82nd Ave between 49th St and 52nd St. Please assist us if you can, if not come out and visit. (This is a special invitation to our "Barker" Brother Tom Ray who moved to Brooksville, COME ON DOWN!)
FISH FRY AND YARD SALE
The Fish Fry is progressing well. It will be Saturday March 29th, from noon to 2 PM. Worshipful Brother Ed Street is distributing tickets for pre-sale. Donations are suggested as follows; Adults $6.50, Children 12- years to 6 - years $3.50, Children under 6 - years free. This is an ALL YOU CAN EAT Fish Fry. We still need items for the yard sale. If you need assistance contact an officer.
POT LUCK SUPPER/ FELLOW CRAFT DEGREE
THE POTLUCK SUPPER SCHEDULED FOR MARCH 31ST HAS BEEN CANCELLED. I'll miss JM's excellent lime pie and MG's spicy cabbage and almond casserole. Instead of the Supper, the Lodge will be putting on a Fellow Craft Degree on Monday March 31st at 7:30 PM. Our Brother is a member of the Reserves and may be called to active duty.
CHILD ID PROGRAM
On April 12th our Lodge will once again sponsor the Child ID Video Tape Program. The event will run from 9 AM until approximately 2:30 PM (we will stay later if needed). We need volunteers to bring in and man video cameras, monitors, etc. We also need volunteers for registration and helping serve refreshments. The Pinellas Park Police Depart will supply the ID kits and additional information. R:. W:. Brother Dave Neveitt is attempting to obtain the services of several clowns to help occupy the kids. Worshipful Brother Carl Lewis is Chairman and can be contacted at 813 - 909 - 4328. Please contact him if you need a poster for your church or school, etc.
REMEMBER THESE ARE FAMILY EVENTS, SO BRING THE FAMILY!
---
CELEBRATION OF LIFE
Happy Birthday
March
| | | |
| --- | --- | --- |
| Kenneth M. Anderson | Charles D. Fisher III | Robert W. Phelps |
| Ronald N. Austiff | James R. Galbraith III | Ray N. Rich PM |
| Drayfus M. Barfield | Kenneth R. Hanke | John D. Ruffer |
| Melvin L. Betts | John M. Hensley | Gilbert L. Smith |
| Gus M. Bilirakis | Ronald S. Milligan | Brian D. Wagner |
| Pasquale A. Corrado | J. David Neveitt PDDGM | Bobby D. White |
---
CONGRATULATIONS BROTHER LEGGE
Brother James M. Legge, who is a duel member of Elmer O. Smith Lodge No. 307 and Milner Lodge No. 287 of Pittsburgh, PA was presented a 50-year pin and certificate at Selama Grotto, by Prophet Monarch Frank Lizius for 50+ years of Service to the Grotto.

Brother Legge was Raised to the Sublime Degree of Master Mason on April 18, 1939 in his home Lodge in Pittsburgh. He received his 60-year pin and certificate from Freemasonry at Elmer O. Smith in April of 1999.
top