September 2002
From the East

Brethren,
It's hard to believe, but the holidays will be upon us soon. We are asking for canned goods to give to those in need this year. We hope to be working with the Pinellas Park Fire Department to make sure that all the needy children in our area have a good holiday. Canned goods, toys, funds should be delivered to the Lodge, starting now. See Art Markowitz, Tom Ray or myself if you have donations. We can make pick-ups. As you see, again we need your help with food and new toys (or funds to purchase these items). We will also be sponsoring a child ID program in November.
On August 12th, our new D.D.G.M. R.W J. Paul Stellrecht made his Official Visit to our Lodge. I was disappointed in the attendance of our Lodge Brothers during this recent visit.
Don't feel like breaking out the grill for Labor Day? On Sunday, September 1st, the Lodge is sponsoring a Cook Out. There will be hot dogs, hamburgers, etc. Bring your family and come out. No fuss, no muss, no cleanup! We also invited the residents of the Masonic Home and the Police, Fire and Rescue personnel of Pinellas Park.

In Search of Further Light,
Carl W. Lewis
Worshipful Master
---
September 2002
Sep 1 ..........Labor Day Cook Out Noon to 2 PM (Family Invited)
Sep 2nd ......Practice for EA Degree 7:30 PM
Sep 6th .......Practice (Catechism Instruction Available) 7:30 PM
Sep 9th .......Stated Communication 7:30 PM
Sep 13th .....NOTE PRACTICE AT LODGE for EA Degree 7:30
Sep 16th .....EA Degree 7:30 PM
Sep 20th .....Practice (Catechism Instruction Available) 7:30 PM
Sep 23rd .....Stated Communication 7:30 PM (Ballot on Changing Meeting)
Sep 27th .....Lodge Dark Grotto Pot Luck 6:30 PM Practice 7:30 PM
Sep 30th .....Pot Luck Supper 6:30 PM


---
From the Secretary's Desk
Brothers,
Congratulations and Welcome to Brother David C. Barrucci, our newest Entered Apprentice, who was Initiated August 5, 2002.
Thanks to the visiting Brothers from Gulf Beach Lodge for helping to fill the sidelines for our EA Degree and Official Visit from the D.D.G.M., R.W. Brother J. Paul Stellrecht. R.W. Brother Stellrecht emphasized the message of M.W. Grand Master James A. Durham Jr. "Excellence Through Education".
Our Lodge has undertaken several projects for the holiday season. We are collecting food for the needy. Please bring in non-perishable items each time you come to Lodge between now and Thanksgiving. If you would like to make a cash donation please mail a check to the Lodge and annotate for food fund. We are also collecting NEW toys for needy children. Please bring in a new toy or make a donation to the toy fund.
A friendly reminder that there are several members who have not paid their dues for 2002. The dues notice for 2003 will be going out next month. Remember the dues for 2003 will be $46.35. There will be an update form included with the dues notice. Please complete and return so we can update the Lodge's records.
We hope that as summer comes to an end, that our Brothers will find time to participate in Lodge.

Fraternally,
Brother Art Markowitz
---
The Chaplains Corner
"Put Your Burdens Down"
Take a potato and write on it the name of a person who has fallen from grace with you. Do this for everyone who raised your ire and never received your forgiveness. When you've finished, gather all your potatoes together and place them in a sack.
Keep this sack next to you at all times: Take it to work. Take it to lunch. Take it everywhere you go. Always have it with you at home.
How long would it take you to grow tired of carrying this burden around? How long would it take your potatoes to sprout into other things, fester and smell? Wouldn't it be nice to be free from the weight, stench, and constant reminder of hurt, disappointment, heartache, and anger?
By hanging on to things that are unpleasant, we create more anguish for ourselves. When you forgive someone, you free yourself from an oppressive load of negativity. Forgiveness allows you to create peace in your life.
From "Bits & Pieces"

Terry D. Farnsworth, Chaplain
---
Masonic Education
Why is it that Masonry has chosen these two men as patrons? Why are Masonic lodges dedicated to them?
St. John, the Baptist
Why did the Freemasons choose St. John, the Baptist, as patron? One would suppose that they would name some outstanding person. But, St. John, the Baptist, was a humble man, a plain man who held, above all, his obligations to God and, with almost unbelievable steadfastness, met martyrdom. He continually preached repentance - and virtue - and humiliation. Yes, the early freemasons chose well in selecting such a man as St. John, the Baptist, as a patron of Freemasonry!
St. John, the Evangelist
For a long period only St. John, the Baptist, was patron saint of Freemasonry. It was not until after the 16th century that St John, the Evangelist, was also adopted as a patron. The "Old Charges" of Freemasonry speak of St. John, the Evangelist, as a "Saint of the Craft." He was constantly admonishing the cultivation of brotherly love. Of all the gospels, The Gospel of St. John is the most Masonic for the central theme is LIGHT. It portrays God as "the Light of the World."
Lodges Dedicated to the Holy Saints John
Lodges then came to be dedicated to the Holy Saints John and it is interesting to note that the early Masons were called "St. John's Masons" or "St. John's Men." It matters not whether the two Saints John were actually members of the Masonic fraternity. But they have been called the patrons of the fraternity down through the ages because they have exemplified the principles of Freemasonry in their daily lives by their deeds and their words. These two humble men did not engage in any of the pomp and glory of the world.
It is because Masonry regards the character and internal qualifications of a man - not the exterior appearances - that these two men are fittingly called the patrons of this great fraternity. They possessed those internal qualifications that made the TRUE MAN. Masonry honors them above all others for they were the living examples of the Golden Rule, the practice of virtue, love for their fellow-men and love for their God.
(Extracted from the Most Worshipful Grand Lodge of Arkansas web site)

---
New Mural on the West Wall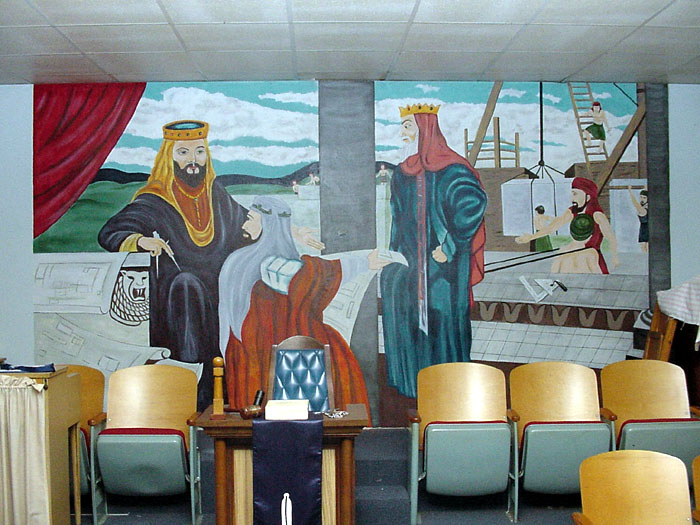 District Deputy Grand Master J. Paul Stellrecht's Visit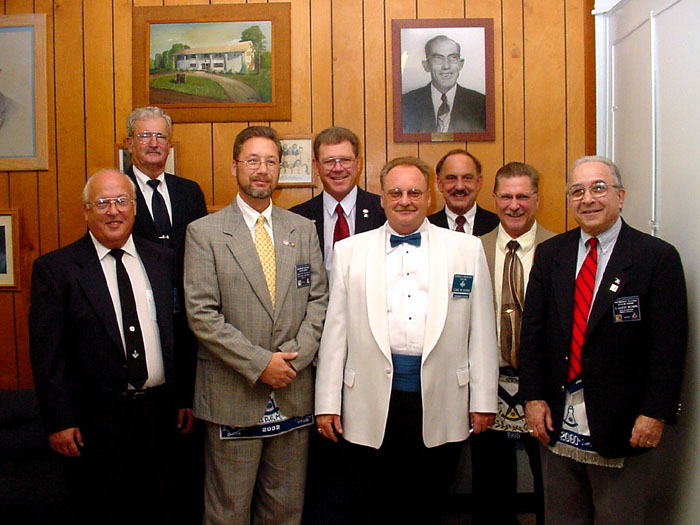 Back Row: WB C.D. Kennedy, WB Rick Hoover District Instructor, WB David Henderson Front row: WB Bob Davidson. RWB J. Paul Stellrecht, WM Carl Lewis, WB Jim Clouser, WB Gil Weisman

Special Presentation

At the 1st Sunday of the Month Dinner, WM Carl Lewis presented WB "Lee" Griffith and his wife Ellen a Certificate for Outstanding Service to the Community. Between both, they have over 50 years of service to the "March of Dimes" and the Cerebral Palsy programs
---
Child ID Program
NEEDED

With all the events in the past few months of children being kidnapped from their yards and homes, the Lodge has decided to help the parents of all the children in our community combat this insane rash of abductions. We plan to help by giving the parents a tool to use should this unseemly event occur. The Child ID videotape and ID packet.

The Lodge will sponsor a Child ID Program Saturday November 9th, in conjunction with the Pinellas Park Police and Fire Departments. The tentative time will be from 10AM until 2 PM. The location will be at our Lodge facilities. The details for the participation of both Departments are still being worked out.

We need the support of members who have video cameras, tripods and TV sets or monitors. We need the equipment and personnel to operate the cameras and additionally other Brothers to staff the various stations. The videotapes will be provided by the Grand Lodge. Other needed items are being scrounged.

We have 2 months to prepare for this and need your support to make this a successful project.Brothers, your support is urgently requested. To assist contact Brother Art Markowitz 727-541-1365 amarkowi@tampabay.rr.com
---
NOTICE
Proposed BY-LAW Change (Change from two to one Stated Communication except in December)
THIS WILL BE BROUGHT TO BALLOT SEPTEMBER 23, 2002
---
In Memorium
Brother Abram J. Libby
..........Initiated March 15, 1971
..........Passed May 31, 1971
..........Raised July 5, 1971
..........25-Year Pin July 14, 1996
Passed to the Grand Lodge On High August 3, 2002
---
Celebration of Life
Happy Birthday
September
| | | |
| --- | --- | --- |
| Dean C. Brooks | Borgie P. Johnson | Harold E. Miller |
| Truman E. Bryant | Wayne E. Kane | Norman C. Morris |
| Rafael E. Catala | Harry E. Keith | Daniel E. Mortimore |
| Angel L. Diaz | Helmut E. Klauss | Donald A. Nordine |
| Floyd W. Gaskins Jr. | Ronald C. Ledet | Richard C. Pierce |
| Leo E. Gendron | Robert E. Lipe | Everett S. Rice |
| Lawrence M. Granet | Robert Liska | Jack E. Trumble |
| John P. Hudon | Gilbert J. Marriner | Robert L. Winship |
| Dennis K. Jackson | Ronald A. Meyers | |
---
POTLUCK SUPPER

Monday September 30, 2002 6:30 PM

Come out and enjoy the fellowship!

The Lodge will supply coffee and iced tea
top