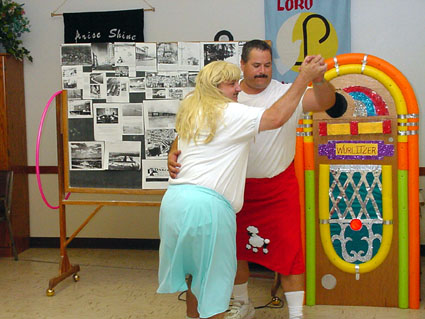 Above and Beyond
the Call Of Duty
Worshipful Master, Jim Reedy, of Elmer O. Smith Masonic Lodge No. 307 and his wife Amy are Associate Advisers with their church youth group. Another Associate Advisor Mike Shipley put together a 1950's Diner theme. They called it Holy Diner, Holy for Hope Lutheran Youth. This fundraiser was to help raise money for Elementary, Middle School, and High School youth to go to various camps this summer. The High School youth are going to Atlanta in Mid-July for the National Youth Gathering. The middle school group leave next Sunday for Ft. Myers Beach Camp, and the elementary group will be going to Luther Springs in North Florida in July.
With pictures of St. Petersburg from the 1950's, the movie Grease, Fifties music, great food, classic cars, and the help of many generous people, the youth made their goal of raising a $1,000.00. They had challenged Jim Reedy and Mike Shipley that if they raised it, the men would have to wear poodle skirts and dance! When the Brothers of Elmer O. Smith heard of the challenge, several gladly made contributions to help the youth make their goal! Thrivent Youth and Communities is going to match the funds up to a $1,000.00 so this was a $2,131.00 Day!
In addition to demonstrating his dancing abilities WM Jim participated in a "Beauty Contest" along with Mike. Though neither won, WM Jim as a runner-up",was Crowned "Miss-ter Congeniality.