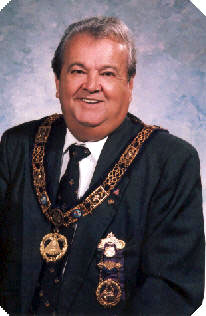 Biographical Sketch of M:.W:. John R. Givens
M:.W:. John R. Givens was born March 4th, 1939 to Elizabeth and Benjamin Givens in Pontiac, Michigan. He attended public schools and graduated from Pontiac Central High School, June 17,1957. On July 7th, 1957 he enlisted in the United States Marine Corp. After serving 24 months on active duty and 5 years reserve, he received his Honorable Discharge at the rank of Corporal.
After being discharged from the US Marines, he was employed as an O.S. & D. and Customer Relation Clerk for a commercial trucking company in Escanaba, MI. He returned to Pontiac in 1964, and began his career in the Material Division with General Motors Truck and Coach. He retired April 21, 1986 with 22 1/2 years of service with General Motors.
M:.W:. John received the three Symbolic Degrees of Freemasonry in Orion Lodge No. 46 in Lake Orion Mi. in 1984. He relocated to Panama City, FL. In 1989 and demitted to St. Andrews Lodge No. 212 in 1990. He served St. Andrews Lodge as Senior Deacon in 1991, Junior Warden in 1992 and Worshipful Master in 1993. He served as Chaplain in 1994 and was elected as Treasurer in 1995, holding that Office until he was elected Junior Grand Warden in 2000. In 1995, he also served as District Chairman for the Grand Master's Charity, in 1996 as Zone Chairman for Masonic Education for M:.W:. Michael A. Padron. In 1997, he was appointed District Deputy Grand Master of the Sixth Masonic District by M:.W:. Samuel E. Cowan and in 1998 and 1999, he was Zone-Chairman of Public Education and Citizenship for M:.W:. Jacque Couture and M:.W:. Keith Dean.
M:.W:. John is a 32 Deg. K.C.C.H. Scottish Rite Mason with the Valley of Panama City. He has also served as Venerable Master for the Lodge of Perfection, Master of Ceremonies for the Council of Kadosh, and Degree Master for the 4th and 30th Degrees. He is also a member of the York Rite Bodies and the San Carlos Conclave, Red Cross of Constantine. As a member of Shaddai Shrine in Panama City, he has served as President of the Past Masters Unit, Secretary/Treasurer of the Masonic Widow's Fund Association of the 6th Masonic District from 1990 through the year 2001. M:.W:. John and his wife Claudia are members of St. Andrews Chapter No. 223, Order of the Eastern Star.
Brother John is an avid lover of Ritual Work and received his Gold Card of Proficiency in 1994. Because of his love and dedication for the Blue Lodge, he has been honored in the 6th Masonic District by receiving Honorary Memberships in Apalachicola Lodge No. 76, Dixie Lodge No. 109, Port St. Joe Lodge No. 111, Parker Lodge No. 142, Acme Lodge No. 222, Tupelo Lodge No. 289, Harry Jackson Lodge No. 314, Bay Lodge No. 337, Pythagoras Lodge No. 358, Ira Lindsey Senior Lodge No. 365 and Callaway Lodge No. 369. He has also received Honorary Memberships in Lake Wales Lodge No. 242 and Red Level Lodge No. 134. He is an Honorary Lifetime Member of the Grand Lodge of Alabama, and proudly boasts of being commissioned a Kentucky Colonel of the Commonwealth of Kentucky in the year of 2002.
M:.W:. John is married to the former Claudia Lynn Schwartz. They have two sons, John and Joseph and three beautiful grandchildren, Alyssa, Dustin and Eric. M:.W:. John's other interests include, music, hunting, fishing and collecting knives.
GRAND MASTER'S COMMENTS
by John R. Givens.
Grand Master F.& A.M. of Florida
Today's Basics Provide Tomorrow's Light
Brethren:
I wish to express my sincerest appreciation to the Craft for their vote of confidence in electing me as Grand Master of Masons of the Most Worshipful Grand Lodge of Free and Accepted Masons of the State of Florida. This is the greatest honor of my life, and one I know, that to thousands of others, it can only be a dream.
I would like to take this opportunity to congratulate R.: W.: Elmer G. Coffman on his advancement to Deputy Grand Master. Since coming on board as a Grand Lodge Officer Brother Elmer has demonstrated his many skills and capabilities and I have the utmost confidence that he will continue to do the same as he progresses through the Grand Line. My congratulations also goes out to R.: W.: John F. Kavanaugh on his election to the office of Senior Grand Warden. Brother John brings to this Grand Line of Officers a wealth of experience and a vast knowledge, having served on the Board of Trustees for the Masonic Home for several years, his understanding and comprehension of the Budget Committee as well as the Admissions Committee will serve us well as we move forward in the year of 2003. I also welcome and congratulate R.: W.: Robert D. Trump our new Junior Grand Warden. Brother Bob's resume speaks very highly for him, but his dedication, his love and loyalty for the Fraternity speak even higher and I know he will be a very valuable asset to this line of Grand Lodge Officers. Congratulations also to M.:W.: J. Roy Crowther on being re-elected to the Office of Grand Treasurer. We are all aware of his contributions and dedication to our Fraternity. Rather than congratulate M.: W.: Roy Connor Sheppard our Grand Secretary. I choose to commend him, not only for the performance of his arduous duties, but for the excellence of professionalism he shows to his staff and to the entire Craft, which is so essentially necessary to the operations of our Grand Lodge on a daily basis. To the Craft I say thank you, for giving me this corps of dedicated Masons. They will no doubt prove to be a line of Officers that future Grand Masters will envy for many years to come.
I believe the 174th Annual Grand Communication was a great success this year as the Craft voted with much wisdom in passing key legislation which will benefit the Grand Lodge, the Masonic Home, our Endowment Fund and the individual Lodges throughout our Jurisdiction.
The passing of the Per Capita tax was definitely a much-needed piece of legislation, which was long overdue; this will be a tremendous help to our Grand Secretary and his staff in performing the everyday duties which are so essentially necessary to our great Fraternity. Much more could be said on all the legislation which was and was not passed, however, I think those remarks and comments should be made at the legislative meeting where both pros and cons can be expressed freely.
Much remains to be done this year as the new Grand Line of Grand Officers assume their new duties. I look forward to this year with a great amount of enthusiasm, to be working with them as we move forward in our efforts to show the Craft that we are here for them, working as a team and putting forth our best efforts, our ideas, and living up to the high standards and principles our Craft and this Fraternity so richly deserve. This is the responsibility we owe to you, this is the responsibilities each and every one of us intend to keep and in so doing we will be doing our best to ensure that Today's Basics Provide Tomorrow's Light.
Once again, I thank you for the Honor of allowing me to serve as your Grand Master and if I can be of any service to you, please feel free to contact me at any time.
Sincerely and fraternally,
John R. Givens
Grand Master
Source: July 2003 THE FLORIDA MASON
---
Copyright © 2003 by the Most Worshipful Grand Lodge of Free & Accepted Masons of Florida (also known as the "Grand Lodge of Florida"). All rights reserved.
top